Five years ago this week…
One of the goals of bringing this site back is to make the point that there was indeed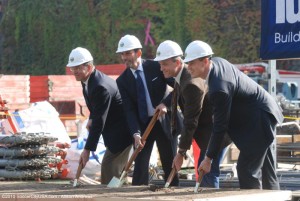 soccer in Portland before 2011, and my first dive into the subject goes back to five years ago this week, September 21, 2010, when ground was broken on the renovation of (then called) PGE Park into what became JELD-WEN Field and now Providence Park.
John Strong was the MC and Don Garber, Nick Fish,  and Randy Leonard were there along with Merritt Paulson and Timber Joey for the groundbreaking.
It's amazing that it's really been five years, and though I love the new MLS-upgraded stadium, I do miss PGE Park and all it's quirks at times.
All of the photos I posted that day can be seen here: