Timbers greatly increase playoff chances with 1-0 win at Real Salt Lake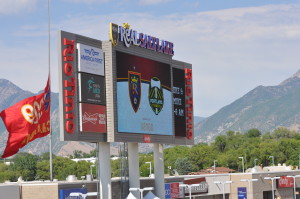 The Portland Timbers got a truly rare win in Sandy, Utah on Wednesday night.  It was rare because the win was on a penalty kick, something that has been ever-so-rare since the Timbers joined MLS in 2011.  Salt Lake's Jamison Olave took down Lucas Melano at the edge of the penalty area in the 52nd minute of a scoreless match, a foul that was borderline in that Timbers fans are used to not getting penalty kick calls (Darlington Nagbe in Columbus anyone?), but the foul was truly borderline in whether it was inside the box or not.  Olave was sent off after the center referee conferred with his assistant, and Fanendo Adi converted the penalty kick for the 1-0 lead.  Despite being up a man for the rest of the match, the Timbers really looked like they were playing down a man and Real Salt Lake had many late chances and only some spectacular saves by Timbers goalkeeper Adam Kwarasey brought the three points home.
With the win, the Timbers jump into a tie for 5th place in the Western Conference, three points ahead of San Jose with each team having two matches remaining.  San Jose hosts Sporting Kansas City on Friday night, and a San Jose loss would mean the Timbers would only need one point from their final two matches to clinch a playoff spot.