5 goals in 25 minutes put Timbers very close to playoff berth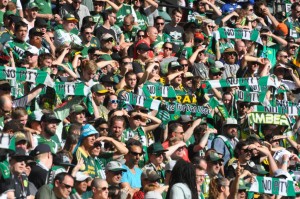 The Portland Timbers faced a daunting task on Sunday afternoon in Los Angeles, going up against the Galaxy who were 12-1-3 at home this year (best record in MLS), and the Timbers had slipped back out of the last playoff position when San Jose beat Sporting Kansas City on Friday night, but the Timbers would score five goals in a 25 minute span of the second half to get some revenge for a 5-0 loss in LA earlier this year, this time jumping into a very good playoff position with a 5-2 win a the StubHub Center.
After the Galaxy took a 1-0 lead into halftime on a 35th minute goal by Robbie Keane, the Timbers leveled the score in the 65th minute on a Fenando Adi strike.  This would be the start of what may be the best 25 minutes of play the Timbers have ever had (across all four leagues, going back to 1975).
Three minutes later, the Timbers were awarded a penalty kick (2nd match in a row!) when Dan Gargan took Adi's legs out inside the box.  Adi's penalty kick would be partially stopped by Donovan Ricketts, but it trickled into the net for a 2-1 Timbers lead.  Six minutes later, in the 74th minute, the Timbers widened the lead when a nice series of passes deep in the Galaxy end of the pitch resulted in a free header for Diego Chara, who's shot was also partially blocked by Ricketts, but slipped in under the bar for a 3-1 Timbers lead.
Ten minutes later the Galaxy pulled back a goal on Keane's second goal of the day, but the Timbers had their two goal lead back before the Galaxy fans were even done celebrating, as Darlington Nagbe slipped in behind the Galaxy defense, pulling Ricketts off his line before slipping around him and putting the shot between two defenders into the net for a 4-2 lead.
The Timbers removed all doubt in the 90th minute when Jorge Villafaña slipped a perfect low cross to the feet of Maximiliano Urruti, who one-timed inside the left post from only a few yards out for the 5-2 lead, which would be the final score.
With the win, the Timbers jump into fourth place in the Western Conference, tied on points with Vancouver and one point behind the Galaxy with each team having one match to play.  The Timbers secure a playoff spot with a draw or win against Colorado next weekend, or San Jose failing to win in Dallas.  The Timbers could finish as high as second place in the Western Conference which would mean a first round bye.