How we got here, part 4 (of 5)
With the Timbers going to the MLS Cup Final this Sunday in Columbus, Ohio, I thought it would be fun to give a rundown on how we got here.  And not just a basic rundown of the 2015 season, or even the five years in MLS, I wanted to give a 15 year rundown of the re-emergence of the Timbers in 2001 to how they got to MLS in the first place, and how many times the team almost didn't continue on to the following season during that time. It's been 15 seasons since that rebirth, and have done three seasons per week so far this week but am going crush 2010-2014 into today so I can concentrate on 2015 tomorrow.  This is part 4 of 5:
2010:
This season was a tryout for 2011's entry into MLS, for the players, the front office, and the fans, and we all knew it before the season started.
The Timbers played the 2010 season in the awkwardly-named USSF Second Division, after the USL and fledgling NASL (II) could not work out their differences.
15,418 were at the home opener as the Timbers beat Rochester 1-0, setting the tone for a season of big crowds and friendlies with high profile international teams, highlighted by a July 17 match against Manchester City at Merlo Field.  The temporary second division arrangement also meant the Timbers faced many teams they'd never seen before, including a 1-0 victory in a Soccer Bowl '75 rematch (well, sort of).
Another special match that season was a testimonial match for Jimmy Conway, which featured many former Timbers players such as Gavin Wilkinson (2001-06), John Bain (1978-82), Darren Sawatzky (2001), Paul Conway (2005), Hugo Alcaraz-Cuellar (2002-06), Greg Howes (2001-02), Andrew Gregor (2004; 2007-08), Lee Morrison (2003-07), Brian Winters (2001-05) and and Dale Mitchell (1978-82).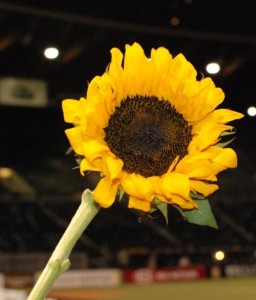 June also saw the revealing of the new Timbers logo during halftime of the USA-England World Cup game at Director's Park.  Um, maybe we better just move on…..
After an eight-game midseason winless streak, the Timbers rallied to finish on a 10-game unbeaten streak, including a 1-0 victory over Puerto Rico in the final game at PGE Park (the sunflower goal) before the MLS renovation, which started on September 21.
The Timbers played their final playoff home match at Merlo Field on October 10, winning 1-0 but falling 2-1 on aggregate to Vancouver to end their second division era.
The time for MLS in Portland was about to begin.
2011:
Of course this is when MLS came to Portland, and very little need for me to write up much about these five MLS seasons, because suddenly there was media everywhere: local TV finally took notice, the Oregonian took notice, numerous blogs, etc, suddenly turned out, and we've packed the house every game since.  But just wanted to mention a few moments through these five MLS seasons that I can't help but remember as we head into the MLS Cup Final this weekend.
First of all, you can't talk about 2011 without talking about the passing of Gisele Currier, who died on April 25, just a few days after the Timbers had opened their MLS home era with wins against Chicago and Dallas. Here is a page I put up with my memories of Gisesle,   Gisele was truly the matriarch of the Timbers and I talked to her before each and every match, and after her sister Paula died eight years earlier, she gave me Paula's Timbers scarf that I still cherish.  Before the first MLS game in Portland she gave me three sets of beads that I still keep as a memento to what she meant to me and to all Timbers fans, and I will be wearing some of those beads (as well as a Gisele pin) at the MLS Cup Final on Sunday.
Other momentous events of 2011 included the first-ever MLS Timbers match, a pre-season 1-1 draw in Ventura, California, starting the season with our second string goalkeeper, being down to the third string keeper by the second match, going on a five game home winning streak to start the season (finally broken by DC United on May 29), beating Vancouver at their BC Place opener 1-0, and a hurricane requiring the rescheduling of the the match in DC (which I had flown east to see).
2012:
In May, the Timbers showed how dangerous it is to host an Open Cup game against an amateur side, after losing to Hollywood United in 2008, the Timbers repeated the embarrassment with a 1-0 loss to Cal FC, outshooting them 37-8 and missing on a Kris Boyd PK.  After missing the playoffs in 2011, and a lackluster start to the 2012 season, the Timbers finally fired coach John Spencer on July 9 after an embarrassing 3-0 loss at Real Salt Lake.  Caleb Porter was hired a month later, to take over after the 2012 season, with Gavin Wilkinson taking over as coach in the interim.  But the Timbers did win their third Cascadia Cup (after 2009 and 2010) this season, and their third in the past four years.
2013:
This season brought a new era with Caleb Porter as the new Timbers coach, and also the addition of the Portland Thorns women's team in the new NWSL.  This was also the season that I had to idle the SoccerCityUSA.com site for personal reasons.  Of course it was also the season that the Timbers rose to the top of the Western Conference, challenged for the Supporters Shield until the final day, and fell just short of the MLS Cup Final with a 5-2 aggregate loss to Real Salt Lake in the Western Conference Final.  No need to talk more about this season, Google the internet, there's lots out there.
2014:
2014 was when the Timbers finally got a shot at the CONCACAF Champions league, winning 3 of 4 in their Group 5 matches vs. Alpha United and Olimpia, but falling short of advancing on a tiebreaker with Olimpia on head-to-head away goals after a 3-1 road loss on October 21.  The Timbers never recovered from a slow start and finished in 6th place in the Western Conference.
Tomorrow we'll talk about this amazing 2015 season that has all eyes on Columbus this Sunday.
You can read part 1, part 2, and part 3 of this series by clicking the respective links.