Two late first half goals by New York Red Bulls sink Timbers 2-0
The Portland Timbers would produce few good quality chances against the New York Red Bulls on a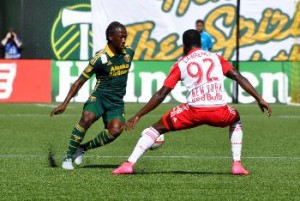 sunny Sunday afternoon in Portland, but two late half chances from the Red Bulls would be the difference as midfielder Felipe and defender Damien Perrinelle's goals in the last few minutes of the first half would be all the scoring in a 2-0 New York win before a full house of 21,144 at Portland's Providence Park.
Timbers defender Nat Borchers nearly got the Timbers on the board in the 34th minute, but his header off a corner kick slipped just over the bar.
The first goal would come in the 43rd minute off a surprise shot from Felipe from 30 yards out that slipped over the head of Timbers goalkeeper Adam Kwarasey.  In first half stoppage time, after the Timbers had cleared a shot off the line, defender Damien Perrinelle's header found the net the same way the first New York goal did, slipping over Kwarasey's head for the 2-0 halftime lead.
The best scoring chance for the Timbers would be in the 87th minute when New York goalkeeper Luis Robles could not control a free kick by Diego Valeri, but Borchers could not quite get his toe on the rebound before Robles batted the ball away, and the visitors would hold on for the 2-0 win.
http://www.timbers.com/post/2015/09/20/match-recap-portland-timbers-0-new-york-red-bulls-2?autoplay=true