Timbers can't turn chances into goals, fall 1-0 to Sporting Kansas City
After a flat performance in their last home match, a 2-0 loss to New York Red Bulls two weeks ago, the Portland Timbers put on a better performance on Saturday night against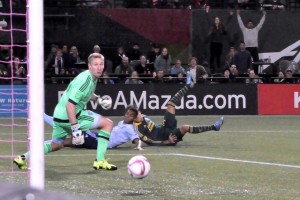 Sporting Kansas City, outshooting their opponents 17 to 8, in a match that got more physical and contentious as it went on.  But Kansas City forward Krisztián Németh eluded some poor Timbers defense in the 83rd minute and slipped the shot inside the left post for the 1-0 win.
The first good chance for the Timbers would be in the 27th minute, when Diego Valeri's curling shot was tipped wide by a fine save by Tim Melia.  Darlington Nagbe and Valeri both had good chances in the few minutes before the half, but Melia was up to the task and it was 0-0 at the half.
The game grew more physical in the second half, but referee Ismail Elfath was inconsistent with his fouls and his cards, and a 66th minute tackle of Timbers forward Lucas Melano in the box that was waved on increased the years-old frustration in the Timbers fans and players that the Timbers simply aren't given penalties at the rate the rest of the league gets.  Nagbe's non-call in Columbus last week was as textbook an example  as you'll get as to how far the MLS referees will go in not giving the Timbers penalty kicks.
Timbers fans who knew the team existed before 2011 (I know there are a few out there) might have had an Alex Nimo moment (May 13, 2010 vs Baltimore if you want to look it up) when Valeri's frustration with a Kansas City player laying on the touchline and refusing to leave the pitch (move one foot to the right) had him attempt to drag the player off the pitch, causing a short scuffle between the teams.
But the good scoring chances the Timbers produced, but could not convert into a goal, would come back to bite them when Krisztián Németh eluded three Timbers defenders to slot the winning goal past Adam Kwarasey in the 83rd minute.  The Timbers nearly levelled shortly afterwards when Maximiliano Urruti made a deep run into the box but slipped his shot just past the far post from an extreme angle.
The Timbers loss and the San Jose draw last night puts the Timbers out of the playoffs with three matches left to try to change that.